Oh, what fun it is to decorate for the holidays in December! From decking the halls to trimming the tree and hanging mistletoe, it's a wonderful time of the year! But wait, what's really lurking in those decorations? It could be invasive species.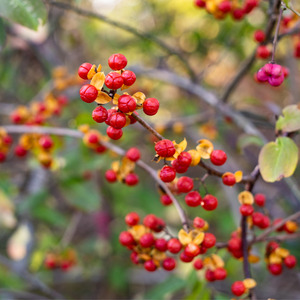 Those red berries in your wreath may look merry and bright, but are they from invasive oriental bittersweet or multiflora rose? Decorating with plants around the holidays can bring cheer to your home, but be sure to check that the plants you are using to decorate are not invasive! Invasive plants are commonly used to make wreaths and other holiday decorations because they are bright and readily available. However, that can be harmful to the environment since berries and seeds fall off the decorations or are eaten and spread by birds and other animals. Those lost bits result in more invasive species when the seeds sprout! For a more environmentally-friendly choice, try decorating with native plants like white pine, Michigan holly, white spruce, white cedar, and more!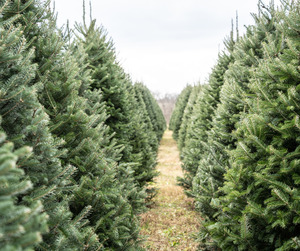 But what about that age-old holiday tradition of getting a live Christmas tree? Be wary of Scots (also known as Scotch) pine, a beloved Christmas tree species that is invasive in Michigan. It spreads quickly and outcompetes our native tree species. Never fear because there are lots of native trees that make great Christmas trees. For a Michigan-native Christmas tree, try balsam fir, white pine, or white spruce. Still, some folks prefer the familiar non-native Christmas trees. Douglas fir, blue spruce, Norway spruce, and Fraser fir are better choices than Scotch pine because they are not considered invasive in Michigan. Whichever species you go with, consider choosing a tree grown locally.
One great place to get a live Christmas tree is from a local Christmas tree farm. It's an excellent way to support local small businesses, and it can also reduce the spread of invasive species. When trees are brought in from other areas, it is hard to know what else they might carry with them. Insects like the invasive spotted lanternfly or balsam woody adelgid can lay eggs or hide on Christmas trees before transport. Those are two species that are not currently in Barry County. However, one infestation of balsam wooly adelgid was identified in Kent County and spotted lanternfly has been found in Oakland County. Both of these species are more established in other states, however. These insects can then be accidentally transported to un-infested areas by buying trees sourced from other states or counties. The best way to reduce the spread of these and other invasive insects is to purchase trees and firewood locally. Lucky for us, this is easy here in Michigan since we are the nation's third-largest producer of Christmas trees.

So, the next time you're buying your holiday decorations, ask where any live plants were sourced, and check that the plants you're buying aren't invasive here in Michigan
---
This message was redistributed with permission from the Barry Conservation District. Zach Whitacre is the BCK CISMA Coordinator, providing invasive species outreach and assistance to landowners in Barry, Calhoun, and Kalamazoo Counties. If you have questions or want more information on invasive species, you can reach him through the Barry Conservation District at (269) 908-4136 or zach.whitacre@macd.org