Dear MNA Friends,
I can think of no better holiday gift to share than this news:  just this week MNA signed the paperwork
and acquired a spectacular new nature sanctuary on the shores of Lake Huron in Presque Isle County. The 51-acre property on Albany Bay includes 1,500 feet of shoreline and was donated by a generous landowner wishing to protect this unique, lakefront habitat.
The new sanctuary is home to a significant population of the threatened dwarf lake iris. The property and surrounding shoreline earns the highest ranking for biological rarity.  Trails on the property will provide public access to the beautiful forest and shoreline, and we will get to work in 2018 to prepare the sanctuary for visitors.
Please watch for updates in the New Year!
For now, I invite you to pause in your holiday plans to take a sneak peek at this video and "fly" over this beautiful new sanctuary and the surrounding tropical-like blue waters of Lake Huron. (The Lake Huron bottom lands immediately offshore of the new sanctuary are part of the Thunder Bay National Marine Sanctuary—watch for the remains of the steamer Albany that sank in 1853.)
We extend our deep appreciation to the landowner for this incredible gift of nature.  And we also thank all of you—your generous support makes it possible for MNA to acquire and hold forever this new sanctuary and many other exceptional places throughout the state.  Together, we can—and do—protect Michigan's rarest natural treasures.
Thank you and Happy New Year!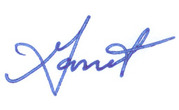 Garret Johnson
Executive Director